Free Your Staff
Do your member services and marketing staffers spend a lot of time on email announcements that never get read? Wrangling documents for member committees? Compiling RSVP lists?

GroupValet can help automate clerical tasks, so your team can spend more time with members, and less with their email.

• Send notices and alerts as email and/or text messages
• Boost the onboarding process with a page that lists all groups available for members to join
- Even groups run by other members
• Drive more traffic to your club website
• Automate meeting invites, RSVPs, and reminders
• Easily track member responses for events, including guest names, meal options, or anything else
• Allow members to book any amenity online
• Store committee documents online for easy access to minutes, documents, proposals, and more…
- No printing, collating, or stapling required
• Best of all, members don't need a username or password to sign up for events.
- Our system automatically logs them in.
- Eliminate member frustration and calls to the office for password resets.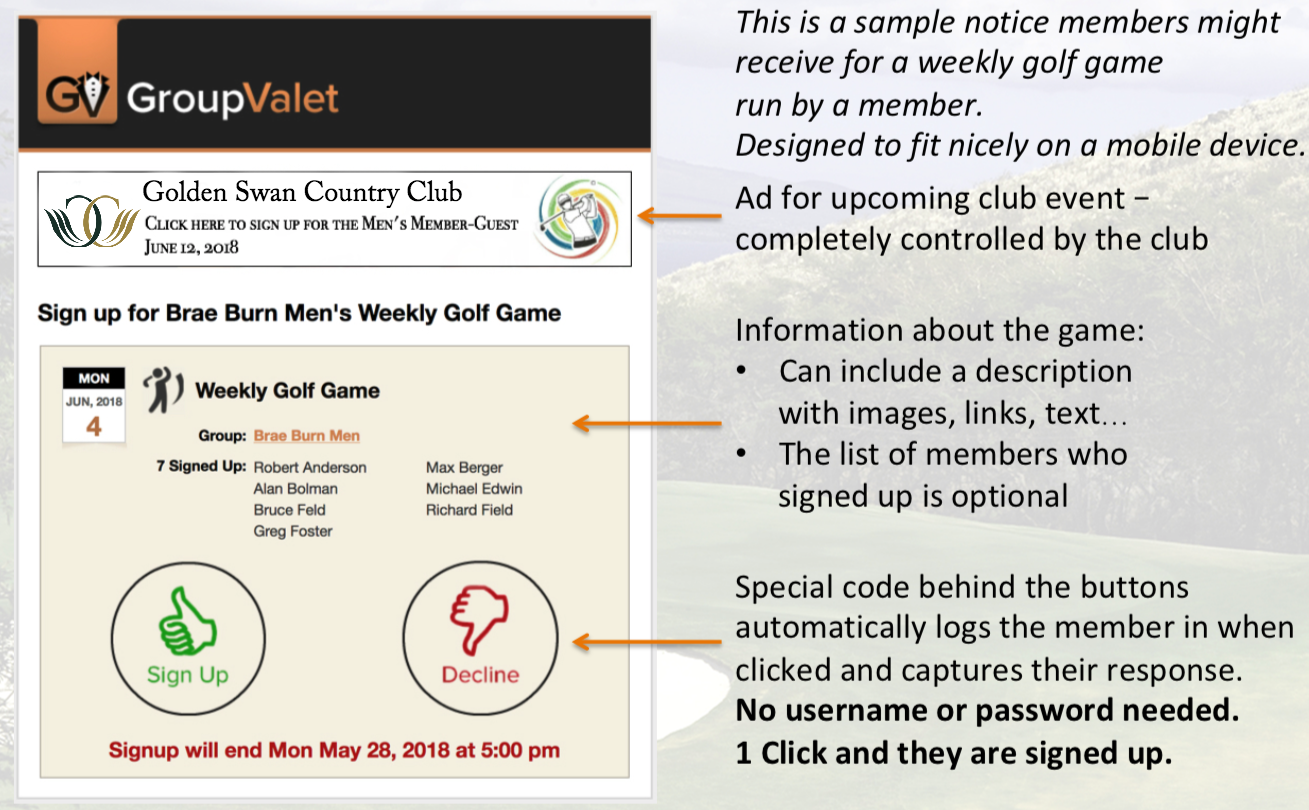 Keep Members in the Loop
When members are out of the country on vacation or traveling for business, it can be hard to keep up with what is going on at the club­­, especially when event notifications are buried in the general newsletter or posted in the locker room. GroupValet makes it easy for members to stay in the loop no matter where they are…

• Personalized, member­-specific messaging means high open and read rates
• Members receive targeted email notifications about the events they care about - ­­from golf to canasta
• Club­-wide events get additional exposure with custom banners in any system generated email - ­­so members see
your announcements while RSVPing for their weekly tennis game

Increase Revenue at the Pro Shops
Can your members book their next lesson or sign up for clinics after hours? What about while they're on the plane home from vacation? If not, the Pro Shop is leaving money on the table. GroupValet can help.

• Increase revenue from sign ups with targeted emails that get your events in front of the right members
• Increase lesson and tournament registrations by allowing members to sign up no matter where they are
• Reduce the amount of clerical work pros do, so they can spend more time teaching
• Collect all of the information you need for a tournament,
including guest names, their index, shirt size, and anything else you need to know
• Facilitate amenity signups for time in a golf swing room, with the tennis ball machine, court time, etc.
• Run Junior Programs with features specifically built for members' children and grandchildren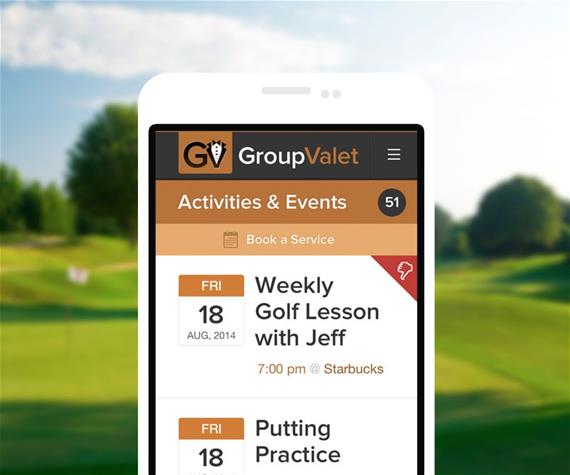 Make it Easier for Members to Connect
Your members are here to meet and connect with other members. But keeping a weekly golf game going can be a lot of work, from wrangling conflicting schedules, to keeping track of who is available for which week's game.

GroupValet makes it easy for members to meet other members and organize regular events with their friends, by helping them…

• Connect with other members who share their interests, from fly fishing to fine dining
• Organize their groups and track of their RSVPs for all of their events automatically (without needing staff resources)
• Reduce emails, replies-to-all, phone tag, and text messages back and forth, when trying to coordinate
their next get together
• Increase the size of their group, by automating the hard work of coordinating group activities…
• …Or create private, invite-­only groups to keep things small, while still enjoying the automation of GroupValet